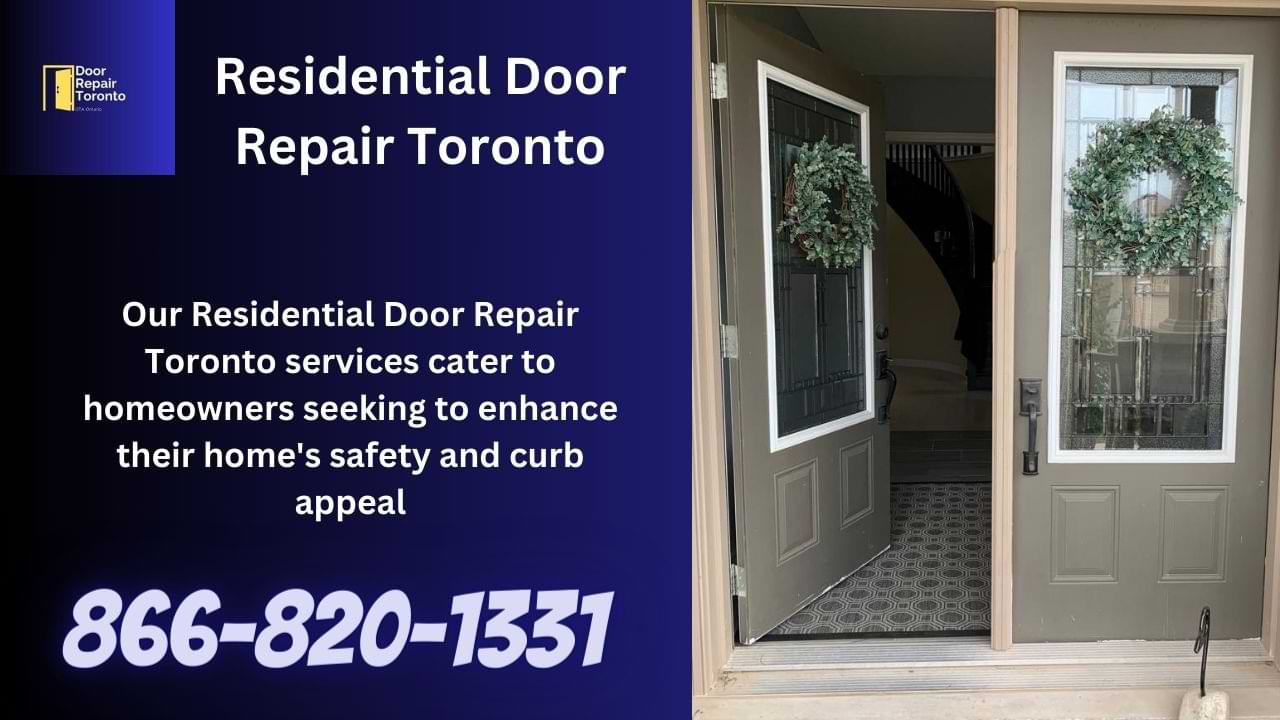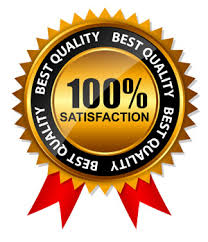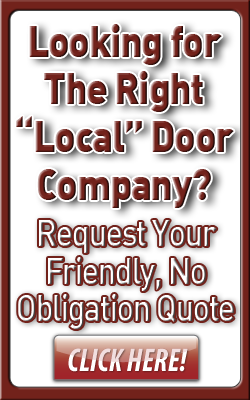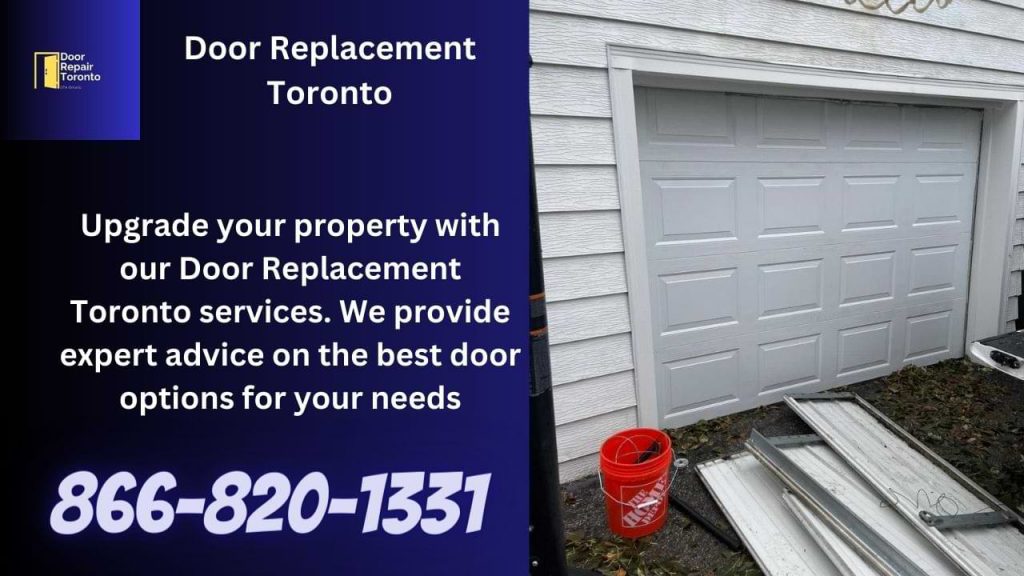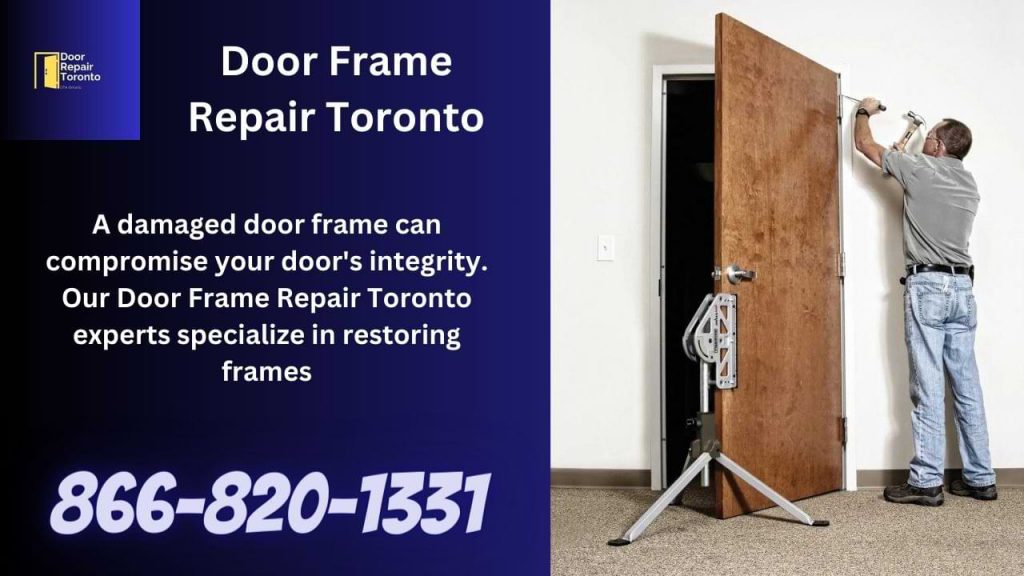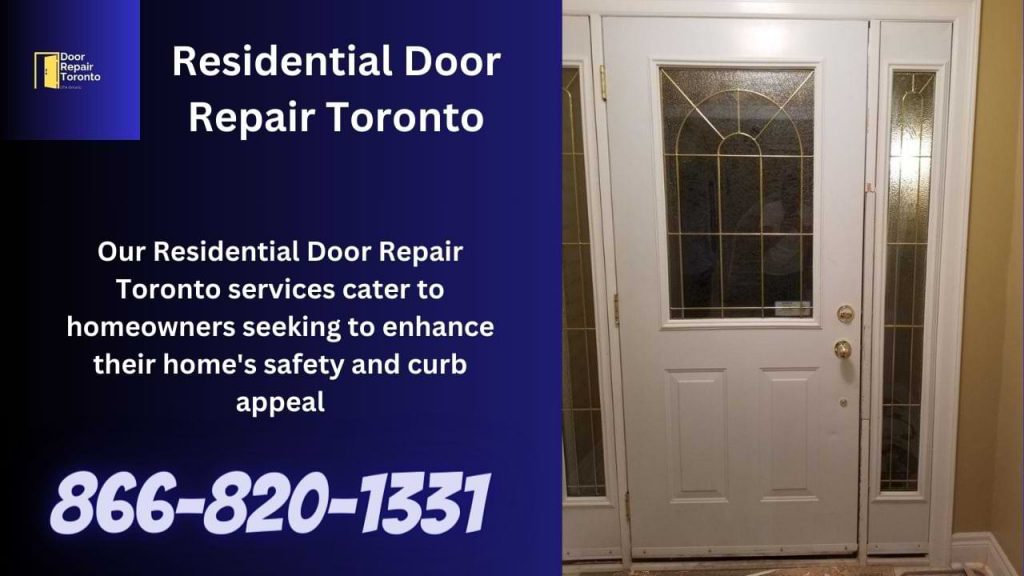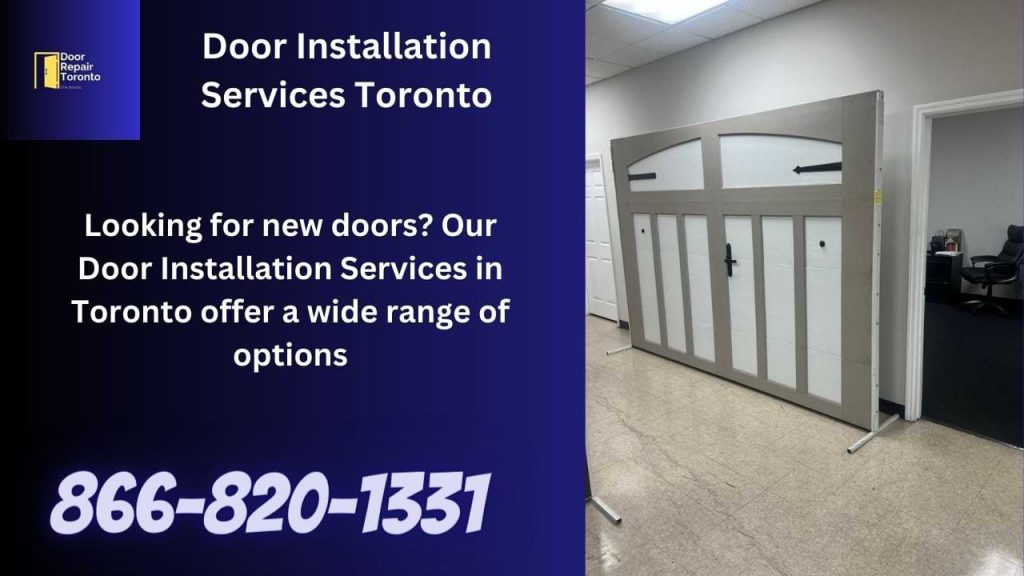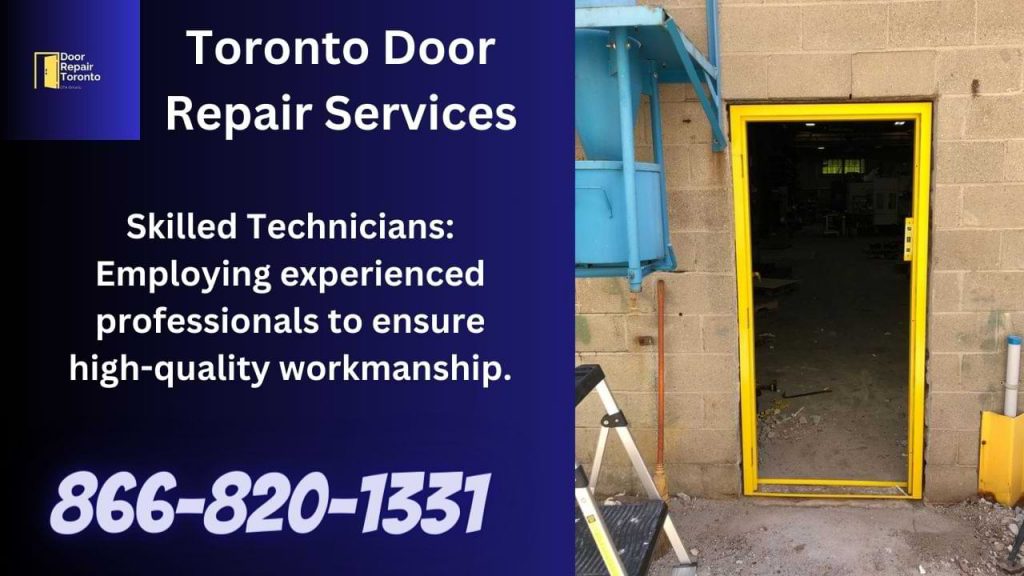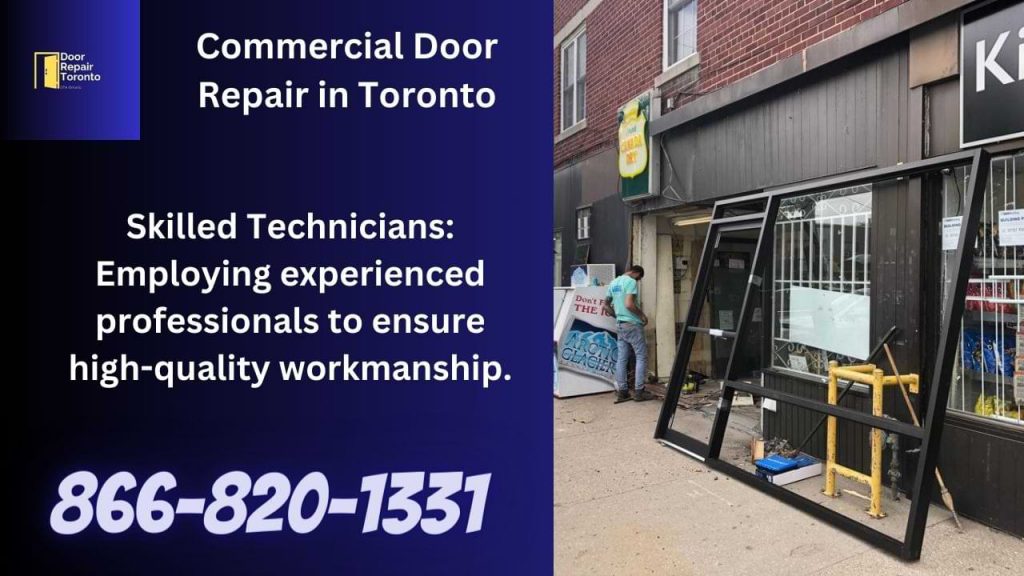 Door Repair Company Toronto
 Residential Door Repair Toronto
Enhancing Your Home with Quality Door Solutions Call us at

(866) 820-1331 or (647) 839-7776
Residential Door Repair Toronto, Are you considering upgrading the doors of your home in Toronto? Xpress Residential Door Repair offers an array of services to enhance the look and function of your residential doors. Whether it's a stylish new entry door or a robust security door, we have the expertise to meet your needs.
Why Choose Us for Your Door Repair and Replacement
At Xpress Residential Door Repair Toronto, we specialize in both residential and commercial door solutions. Our team of professionals is committed to providing top-quality replacement doors and exceptional service. We understand the importance of great-looking doors and ensure each project is completed with meticulous attention to detail.
Our Range of Services
Customized Door Options
We offer a variety of door types to suit different needs and preferences:
Storm Doors: Enhance your home's protection against harsh weather.
Entry Doors: Choose from fiberglass, steel, and other materials for a grand entrance.
Garage Doors: Reliable and stylish options for your home's garage.
Patio Doors: Beautiful designs to add elegance to your outdoor spaces.
Quality Construction and Finishing
We pride ourselves on quality craftsmanship. Our doors are available in various paint and stain finishes, tailored to fit your style and budget. Whether you need a simple door repair or a complete replacement, our team ensures high-quality results.
Serving the Greater Toronto Area
Proudly serving Toronto and surrounding areas, including East York, North York, Richmond Hill, Thornhill, Brampton, and Vaughan. We are dedicated to adding value to your home or business through our efficient and energy-saving door solutions.
Contact Us for a Free Estimate

 (866) 820-1331 or (647) 839-7776
Experience the difference in quality and service with Xpress Locksmith and Doors. Call us at (866) 820-1331 or (647) 839-7776 for a free estimate. Let us help you make the right choice for your door repair and replacement needs in Toronto.
Storm Doors: Enhance Your Home's Protection Against Harsh Weather
Storm doors are an essential addition to any home, especially in areas prone to extreme weather conditions. At Xpress Residential Door Repair, we offer a range of storm doors that are not only functional but also add to the aesthetic appeal of your home. Our storm doors are designed to withstand harsh weather, protecting your home from wind, rain, and snow. Features include:
Durable Materials: Our storm doors are made from high-quality materials like aluminum, vinyl, and composite, ensuring long-lasting durability and resistance to weather elements.
Energy Efficiency: These doors provide an additional layer of insulation, helping to keep your home warm in the winter and cool in the summer, thus reducing energy costs.
Customizable Options: Choose from various styles, colors, and glass panels to match your home's exterior design.
Added Security: Enhanced with sturdy locks and reinforced frames, our storm doors offer an extra level of security to your home.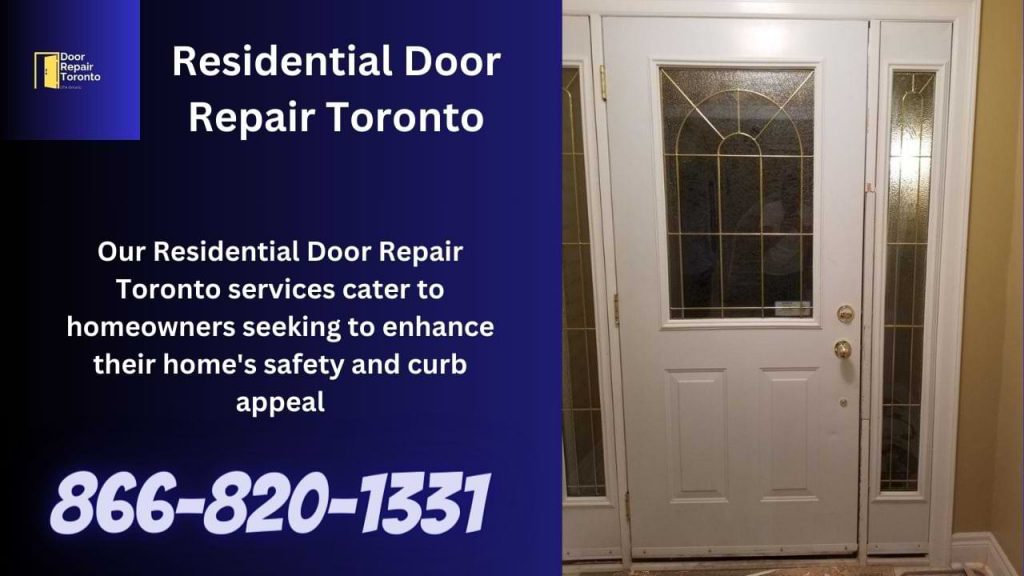 Entry Doors: Choose from Fiberglass, Steel, and Other Materials for a Grand Entrance
Your front door is more than just an entryway – it's a statement piece that reflects your home's character. Xpress Residential Door Repair offers a wide selection of entry doors that combine style, security, and durability. Our options include:
Fiberglass Entry Doors: These doors are known for their strength, low maintenance, and energy efficiency. They resist warping, rotting, and expanding, making them a practical choice for any climate.
Steel Entry Doors: Ideal for those prioritizing security and durability. Steel doors are tough against wear and tear and provide superior protection.
Wooden and Composite Doors: For those seeking a classic or customized look, we offer wooden and composite doors in various finishes and designs.
Design Variety: From modern minimalist to traditional elegance, our range of designs ensures that you find the perfect door to match your home's style.
Garage Doors: Reliable and Stylish Options for Your Home's Garage
The right garage door can enhance your home's curb appeal and functionality. At Xpress Residential Door Repair, we provide a variety of garage door options tailored to your needs:
Sectional Garage Doors: Popular for their durability and ease of use. Available in a range of materials and finishes.
Roller Garage Doors: Compact and space-saving, ideal for garages with limited space.
Automated Garage Doors: For added convenience and security, our automated doors are equipped with the latest technology.
Custom Designs: We can customize garage doors to suit the style and architecture of your home, ensuring a seamless look.
Patio Doors: Beautiful Designs to Add Elegance to Your Outdoor Spaces
Patio doors bridge the gap between your indoor and outdoor spaces, providing an elegant and functional transition. We offer various styles to enhance the beauty and accessibility of your patio:
Sliding Patio Doors: A popular choice for their space-saving design and ease of operation. Available in a range of materials and glass options.
French Patio Doors: Add a touch of classic elegance with our French patio doors, perfect for traditional and contemporary homes alike.
Bi-fold Doors: Ideal for opening up your living space to the outdoors, these doors fold back to create a wide, unobstructed opening.
Customizable Options: Tailor your patio doors with different frame materials, glass types, and hardware to match your home's style and requirements.
Navigating Residential Front Door Frame Repair in Toronto
When it comes to maintaining the safety, functionality, and aesthetic appeal of your home, the integrity of your front door frame is paramount. In Toronto, where the climate and urban environment can take a toll on residential structures, ensuring your front door frame is in top condition is not just a matter of appearance but of security and energy efficiency as well. This article aims to guide homeowners through the essentials of residential front door frame repair in Toronto, highlighting the importance of timely maintenance, the signs to watch for indicating repairs are needed, and the benefits of professional service. With the right care and attention, your front door can continue to be a welcoming entry point to your home and a steadfast barrier to the elements.
Identifying the Need for Repair: Recognizing Warning Signs
A crucial aspect of home maintenance is recognizing when your front door frame requires repair. For homeowners in Toronto, several tell-tale signs indicate the need for professional attention. These include:
Visible Damage: Look for cracks, warping, or rot, especially in wooden frames. These can compromise the structural integrity of the door.
Difficulty in Opening or Closing: If your door no longer shuts smoothly or sticks in its frame, it could be a sign of frame misalignment or warping due to weather changes.
Drafts and Energy Loss: Gaps in the door frame can lead to increased energy bills as warm or cool air escapes, a critical concern in Toronto's varied climate.
Pest Intrusion: Small gaps or damages can be entry points for pests, leading to potential infestations.
Aesthetic Decline: Peeling paint, discoloration, or general wear and tear not only diminish the appearance of your door but can also signal deeper structural issues.

Choosing the Right Repair Service: What Toronto Homeowners Should Know

Selecting the right professional service for residential front door frame repair in Toronto is crucial for ensuring quality workmanship and long-lasting results. Homeowners should consider several factors to make an informed decision:

Expertise and Experience: Look for a service provider with a strong track record of repairing residential door frames. Experience in handling diverse cases in Toronto's specific climate is a plus.
Licensing and Certification: Ensure that the repair service is properly licensed and certified, providing a guarantee of their professionalism and adherence to industry standards.
Customer Reviews and Testimonials: Check for customer feedback, which can offer insights into the reliability and quality of the service provided.
Cost and Value: While cost is an important factor, it shouldn't be the sole deciding factor. Seek a balance between affordable pricing and high-quality service.
Warranty and After-Service Support: A service that offers a warranty on their work demonstrates confidence in their quality. After-service support is also essential for addressing any future issues.
Timeliness and Flexibility: Consider their ability to provide timely services that fit your schedule, minimizing disruption to your daily life.
Consultation and Transparency: A reputable service will offer a thorough consultation and transparently discuss the repair process, costs, and expected outcomes.
The Repair Process: Understanding Each Step
For homeowners in Toronto embarking on front door frame repair, understanding the process is key to ensuring a smooth and successful outcome. The repair process typically involves the following steps:
Initial Assessment: A professional technician will first conduct a thorough inspection of the door frame to assess the extent of the damage. This step is crucial for devising an effective repair plan.
Detailed Quotation: Based on the assessment, the service provider should offer a detailed quotation, outlining the costs involved for materials and labor.
Choosing Materials: If replacements are needed, the homeowner may be involved in selecting new materials. Choices should be made considering factors like durability, weather resistance, and aesthetic compatibility with the existing door and home exterior.
Repair Work: This step involves the actual repair work, which may include removing damaged sections, treating areas affected by rot or pests, realigning the frame, and filling cracks or gaps.
Finishing Touches: After the structural work is completed, finishing touches are applied. This might include painting, sealing, or varnishing to protect the door frame from future damage and to ensure it matches the rest of the door.
Final Inspection and Testing: The technician should perform a final inspection to ensure the door functions correctly and that the frame is secure and weather-tight. This may involve testing the door's opening and closing mechanisms, checking for drafts, and ensuring a proper seal.
Cleanup and Aftercare Advice: A professional service will clean up the work area after the repair and provide homeowners with advice on maintaining their newly repaired door frame.
Knowing what to expect during the repair process helps homeowners in Toronto prepare for the project and ensures they can make informed decisions at each stage.
Ensuring Durable and Secure Door Frames in Toronto
This article has navigated through the crucial aspects of residential front door frame repair in Toronto, offering insights into the warning signs of damage, how to choose the right repair service, and what to expect during the repair process.
Timely recognition of issues such as visible damage, operational difficulties, drafts, pest intrusion, and aesthetic decline is key to maintaining a secure, efficient, and visually appealing front door.
When selecting a repair service, homeowners should consider factors like expertise, licensing, customer reviews, value, warranty, and transparency. The repair process, from assessment to the final touches, requires professional handling to ensure long-lasting results. Homeowners equipped with this knowledge can effectively address front door frame issues, contributing to the safety, energy efficiency, and curb appeal of their homes in Toronto.
For expert door frame repair services, contact doorsrepairtoronto.ca at 866-820-1331 – your reliable partner in maintaining the integrity of your home's entryway.