Toronto Sliding Door Repair
Call our Specialists now:

1-866-820-1331
We are the Xpress Experts when it comes to Sliding Doors!
We will fix Sliding Doors that are hard to roll!
Toronto Sliding Door Repair, We have over 15 years of experience in repairing sliding doors in Toronto Ontario and that will be obvious once yours is fixed and moving as if it's brand new. We can assure our customers that their expectations will be regularly exceeded by our trained and speedy technicians.
Our entire list of services can be found below:
* Complete Mobile Service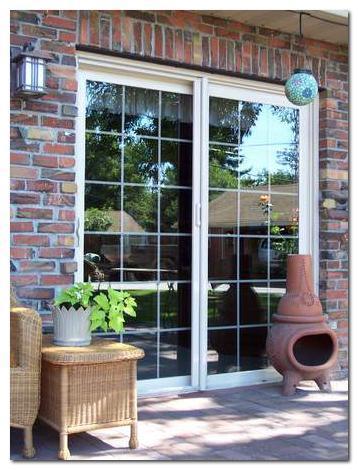 * Pocket Door Track Replacement
* Pocket Doors and Pocket Door Repair
* Sliding Door Repair
* Rollers, Locks, Handles and Tracks
* New Closet Doors
* Mirror Doors
* Glass Patio Doors
* Vinyl Door Track Repairs
* Roller Repair
Our technicians are the best in the business when it comes to repairing most sliding doors. We have a large selection of rollers and parts on hand to fit almost any door. We carry parts for many types and brands of doors so we can make repairs in one visit.
Our service package includes replacement of rollers, properly aligning panels and locks, and cleaning tracks. In cases where there is bottom track damage, there are a couple of options available.
Call our Specialists now: 1-866-820-1331
Toronto Track Saver
If a track bead has waives, divots, or dents because of worn out rollers. We install a stainless steel C cap over top of the damaged bead, filing in the divots with silicon and proving a smooth dent resistant surface for the door to roll on.
Toronto Track Replacement

If the track bead is damaged too severely for a track saver, track replacement is the only solution, besides a new door. We remove the panels from the opening, pull up the old track, loosen and pull the side jambs from the wall. We then apply a waterproofing adhesive in the corners and under the new track, fasten down new track with galvanized Tapcon screws into the concrete slab. Reattach side jambs, caulk inside and out and replace rollers at a discounted price from our normal repair cost.
Toronto Sliding Glass Door Cut-Down
If the header (the supporting wood beam over the door) has dropped in the middle (header sag) and the doors are binding and not opening, there are two options. 1) A new door or 2) we would have to order new glass (1/8" to ½" shorter) and disassemble the frame, cut the sides down, and rebuild panels with new glass. Because of the extended amount of time it takes the header sag to occur, rollers in the door will most likely need to be replaced.
If your patio door won't open smoothly, we can make it work like new. If your closet door or mirror wardrobe door is off the track or won't stay on, we can repair or replace it for smooth easy operation. If your pocket door won't open or close properly, we can make it better than new with our special state-of-the-art replacement track that makes it open and close with just a touch!
Guarantee – Once we have completed our job, you will be able to open your door beautifully!
Our Xpress Time Service – We will arrive within 1 hour time span. We will be happy to call you when we are on the way.
Professional Expert Advise – Available to assist you with questions, concerns and scheduling regarding sliding door repairs.
Qualified Technicians – We are experienced with all ranges of repairs, and maintenance to your sliding doors. We fix the rolling and locking of new recent models to old and obsolete sliding doors.
We specialize in patio door repairs, sliding door repairs, wardrobe sliding door repairs, sliding patio locks door repairs, sliding glass door track repairs, closet sliding doors, sliding mirror closet doors, and pocket door repairs. We do not repair shower doors or screen doors.
Fix Glass Door Rail, Track, Screen, Wheel & Latch in Toronto
Are you looking for repairing your sliding door? We offer high quality sliding door repair services in Toronto, Ontario. We specialize in repairing sliding door including roller replacement, door lock installation and glass panel repair.
Issues with your sliding doors can be a huge hassle, especially since it has greatly become a huge part of the business and home operations from day in and out. Among the first few signs singling repair include stuck wheels, creaking sounds when opening or closing, or the door just being harder to open the usual. Before these cases get worse, it is highly recommended to get in touch with us before the door becomes unusable completely.
Our Door Repair Works
Our services range from simple door handle repairs to sliding door replacement. Our specialist will evaluate whether the condition of the door needs a basic repair or an entire replacement.
Sliding Door Track and Wheels Repair/Replacement

This is another inevitable problem with sliding doors. Through time the track and wheels can get misaligned or dirty. This is the reason why your door gets harder to open than usual. To address this, your sliding door track needs to be either repaired or totally replaced, depending on the evaluation of our door specialist. Delaying maintenance of tracks often lead to totally replacement of the wheels.
Sliding Door Latch Repair/Replacement
Is your door lock consistently giving you problems? Latch is crucial for your overall security and any problem in this part of your sliding door should not be ignored. We can repair or replace your sliding door latch in the most efficient way possible, as efficient as our installation processes.
Sliding Door Glass Panel Repair/Replacement
Whether you are looking for an upgrade for your glass or a simply repair to your current one, you are covered by our services. We provide the highest quality of glass in the market, so you can be assured of its longevity.
Door Handle Replacement
This is one of the most common problems with out many doors. It can either be caused by sustained pressure from years of usage, or simply loose screws. Whatever the problems is, our specialist will be able to restore your handle in no time. We can also do upgrades to your sliding door handles per request.
Need more services not mentioned above? Talk to us.
Type of Door Repairs
Our years of experience being Toronto longest and leading contractor for sliding doors installation and repair, we are not ready and confident to service all sorts of doors. To date, we are now servicing these types of doors all around the GTA Toronto Ontario:
* Aluminum Sliding door
* Storefront glass door
Commercial glass door
* Bathroom sliding door
* Sliding patio door
* Balcony sliding door