Toronto Exterior Door Installation
Xpress Exterior Door Installation, Replacement Doors, and New Home Construction 647 866 0956

Toronto Exterior Door Installation We are the Door repair Toronto installing and repairing all types of doors and locks. Our services include door installation, door repairs, entryway design and installation, locksmithing and custom carpentry including remodeling, cabinetmaking, stairways, fences, gates and more.
We can handle any type of door repair or replacement. We are not handymen or hobbyists. Our expert technicians are professionally trained door hangers and carpenters. This is a specialized skill that allows us to fix or replace your door properly the first time.
– Serving greater GTA area
– Over 15 years of experience
– Licensed and bonded contractor
– Professional door installation and door repair
– Custom carpentry and remodeling
– Free quotes via email and phone
– Friendly, professional staff with a sense of humor
In addition if you need a custom door, we can order your door for you and then install it to our high standards. You can call us at any time and one of our experts will help you over the phone to get a technician to your door in 30 minutes for all of your door needs, they are coming prepared for any situation that you have with your door.
If you're not sure what kind of door you need/want, we can help you make that decision. This section explains the most common door types and styles. Door repair Toronto work with many distributors so that we're able to fill custom and bulk orders. So no matter what kind of door you need, Door repair Toronto can get it for you.
Your front door is the focal point of your home's exterior, and it's the first thing guests see when approaching it. Welcome them with a stylish, stunning entryway! Our vast selection of entry and patio doors are crafted using only the most durable materials including modern synthetic and composites all designed to add aesthetics to your home, while protecting it from Toronto summer heat and storm winds.
We offer several different exterior door product lines in our showroom, only from companies we know and trust. After all, that's why our customers come to us!
Interested in keeping your doors working and looking their best? Read these tips for Caring for Your Windows and Doors.
Entry and Patio Door Installation and Replacements: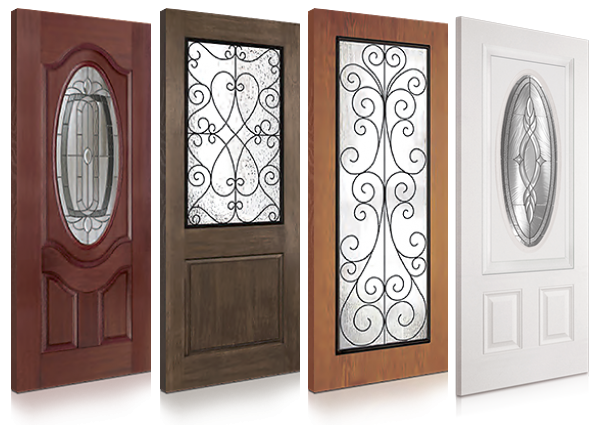 #    Entry Doors
#    Patio Doors
#    French Doors
#    Neuma Exterior
#    Storm Protection/Impact Doors
#    Sliding Glass Doors
#    Therma Tru
#    Gorell
#    Custom Window Systems
#    Energy Efficient Doors
#    PGT
#    MI Products
#    Contemporary Doors
Whether you're remodelling your home or building a new one, we can help you find the perfect fit to complete your masterpiece! Our product specialists are up-to-date on the very latest in home building trends and technology, including Toronto Doors and Flush-Glazed Doors with Impact Rated Glass, and Neuma Hurricane Impact Series and Vented Sidelight Doors.
We can help you find a front door to compliment your home's windows and architectural design to give it that 'wow' factor! Read our tips for buying doors.
Once you've selected your door, our installation specialists will take care of the rest. Our technicians are well versed in the most advanced application techniques to ensure your exterior door is installed correctly. Our specialists are all full-time staff members of our company rather than independent contractors, and all are required to complete rigorous training to ensure proficiency with our products.
If you're interested in learning more about our exterior door options, give us a call today at (866) 820-1331. We'll be glad to help!