Hamilton Door Repair
Your Residential and Commercial Door Repair and Door Entrance Expert in Hamilton, Ontario!

Call 866-820-1331
Hamilton Door Repair, commercial door service and repair is only one of the specialties we offer our commercial customers. We are a Hamilton based, 24-hour door repair service company. We offer same day, quality and cost effective service in repairs, replacements, maintenance, on ALL TYPES of doors, glass and security hardware. We specialize in; manual, automatic (swinging and sliding), storefront, shower, fire rated, and glass doors.
Residential Door Service Hamilton
WE NOW OFFER RESIDENTIAL DOOR SERVICES!!! Looking for door handles? Front door locks? Security doors? We offer residential door installation, repairs, and services to Hamilton Ontario and surrounding areas. Call 866-820-1331 today for an estimate or to schedule an appointment!
Door Repair Automatic & Revolving Door Repair

We specialize in automatic door installation, replacement, and service. We offer a wide variety of commercial doors including Swing Slide, Telescopic, Folding, and Revolving Automatic Doors. We also service and install Oncology and Radiation Automatic Doors. We have certified inspectors on staff to help maintain your automatic doors.
Emergency Board Ups Hamilton
Accidents, Vandalism and Extreme Weather can render your business property vulnerable to theft or storm damage. We also offer 24-hour emergency board up and door repair services when you business glass has been damaged.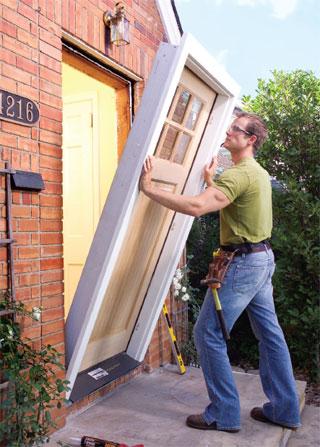 Glass Repair
Is there a crack in your glass door? Did your commercial glass door shatter? We specialize in commercial glass repair services throughout all of Hamilton Ontario and Burlington Ontario. We also refurbish existing automatic doors including tracks, rollers, guides, motor drives, and controls.
Hamilton Door Repair Storefront Service
Offers Storefront Glass Services, Automatic and Revolving Door Repair Services and more! Call Today 866-820-1331!
Commercial Locksmith Hamilton & Commercial Door Service Hamilton
Hamilton Door Repair also provides a wide range of commercial locksmith services. Our experienced team has the knowledge and expertise to effectively handle any of your lock and key needs. Call us for more information at 866-820-1331.
Door Closers Handles and Hardware
Do you need new door closer, handles or hardware for your commercial doors? We also offer many different door closer and hardware options for a wide variety of commercial doors. We can service, install or repair any commercial door you may have. Contact us today to learn more.
Hollow Metal Door Repair Hamilton
Does your hollow metal door need repair? Our highly trained technicians service commercial and industrial customers throughout the Hamilton Area with prompt, affordable repairs or replacements. We are your custom door installation, service, and repair experts!
Storefront Door Repair Hamilton

The entrance to your business says a lot about what's inside. We want to help you make a great first impression with properly working storefront doors. Our service area includes Hamilton, Burlington, Waterdown, Oakville, Dundas, Stoney Creek, Caledonia, Binbrook, Brant, Brantford, Ohsweken,Grimsby, St. Catharines, Niagara Falls, Welland  and Toronto Ontario.
Door Closer Repair Hamilton
If you need door closer repair, look no further. Our courteous and knowledgeable team offers a variety of door hardware and replacements parts. Instead of replacing your entire door because of a broken hardware piece, let us install mounted or overhead door closers, stops, and holders.
Weather Stripping Replacement Hamilton
Weather stripping your doors will seal any openings to prevent rain, water, dust and insects from entering. It also helps save energy with heating and air conditioning. Prevent air leaks and keep energy costs down. Call us today!
Panic Device Repair Hamilton
As a fully licensed, bonded and insured commercial locksmith and door company, we specialize in, panic device and other push entry bars or systems. We repair and replace alarmed exit doors, exit doors, fire and safety code compliant hardware, and automatic re-locking devices.
Lock-outs service Hamilton
Are you a property manager and need to lock out a tenant? We provide 24/7 emergency lockout service. Our locksmiths pride us on our fast, dependable service. Call us now for immediate lockout service!
Access Control Hamilton
Whether you need a simple stand-alone system or a complex access control system, or, we offer all products to meet your needs. We also offer a complete line of access control devices including card readers, keypads, RF controls, electric and magnetic locks and a full line of complimentary products to meet your exact specifications.
Security Gates / Grilles
Hamilton Door Repair security gates and grilles provide industry leading versatility and security, along with protection and peace of mind. Our Security gates can be used for many applications from warehouses to storefronts. Protect your facility or store against burglary and vandalism Find the right security gate solution here.
Master Key Systems Hamilton
A master key system is simpler and more convenient than searching through a set of keys you have authority over. Whether you need a master key for an interior or exterior door, trust our professionals.
Locks Re-keys Hamilton
Do you need re-keying service? Let our locksmiths, serving Hamilton, Burlington, Waterdown, Oakville, Dundas, Stoney Creek, Caledonia, Binbrook, Brant, Brantford, Ohsweken,Grimsby, St. Catharines, Niagara Falls, Welland  and Toronto Ontario, help you with all your re-key needs. Contact our friendly and courteous staff today!
Lever Sets repair Hamilton
We repair and service lever sets and pull handle sets for all types of commercial doors throughout Hamilton and all of GTA Ontario. Entry, passage, privacy or storeroom function, we carry them all!