Burglary Door Repair Toronto
24 Hr Door Repair Companies Toronto specializing fixing broken doors for Commercial/Residential, repairs for clients who have experienced a break-in due to burglary.Call us 24/7 at

647-866-0956
Burglary Door Repair Toronto and door preventive services will take the proper measures to help you at any time you call us. Burglary Door Repair Toronto will help you increase your property safety so a burglary attempt will be stopped. However if you were the victim of a theft already, Burglary Door Repair Toronto is always here for you to repair any door damaged provoked by such an act. Call us 24/7!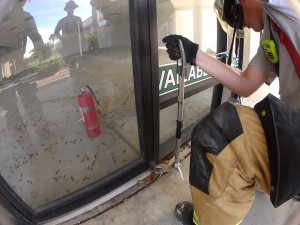 Our teams are available to come to our help 24/7 at any time you need our Burglary Door Repair Toronto service. We are well-trained and fully equipped to help you with any safety improvement service or door repair assistance. Call Burglary Door Repair Toronto day or night!
The unfortunate part of life is that accidents and incidents happen. Sometimes you sleep in through your alarm, other times someone runs their truck through your store front. So here are the steps should you take when you get that 3:00 AM call telling you there has been physical damage to your store front or industrial door, or after being a victim of a burglary, especially if you are a commercial property owner.
Call the police to report the theft or the unfortunate incident. Then call our Burglary Door Repair Toronto service. The fact of the matter is, if your business's door gets damaged you need it repaired a.s.a.p. You cannot wait until tomorrow's business hours start to get rolling on the repairs. That is why we have our 24/7 same day emergency repair service. We employ live operators around the clock so you do not have to speak to an automated system. Our on-call technicians stand by after-hours to ensure that we are there when your emergency strikes. We understand that regardless of the circumstances, your business must go on which is why we guarantee same day service.
The next step is to continue on with your business! To be honest there really is not a step two. All you need to do is contact us regarding your emergency. We will be at your business before you know it, repairing your damaged property. Whether you are a dentist office that has been broke-in, an aircraft hangar with a faulty door, or a restaurant that just lost your revolving door due to a car driving through it; you can count on our team to fix it quickly. For example, being a restaurant owner the quality of your food and cleanliness of your space are typically your main concerns. Among other things you worry about are the customer service, inventory, condition of your appliances, and condition of your restaurant's furniture and interior decoration. One thing that might not be on your mind, is the entrance and windows to your restaurant. Other than standard, routine maintenance of them, they can quickly fall out of mind. Until an unfortunate emergency happens. Whether it is a brick through the window, a storm that damages your entrance, or a freak accident that no one can see coming; it is a disaster.
specializing fixing broken doors for Commercial/Residential, repairs for clients who have experienced a break-in due to burglary.

Call us 24/7 at 647-866-0956
Your first reaction might be to panic and rightfully so. Our suggestion, however, is to pick up the phone and call us. Our teams are standing by 24/7 for situations just like this. We respond as quickly as possible, usually within minutes. Our mobile door service vans located throughout the area are stocked with board up equipment so that you are not left with a hole in your entrance. We can often provide certain types of glass depending on your needs and wishes. Once contacted, you can expect the following steps to take place:
Upon arrival we will board up the damaged area

Take measurements

Initiate repairs and replacement as quickly as possible
Even in the event of a natural disaster such as a storm, you can contact us to help remedy your situation and assist you in disaster preparedness. Our goal is to put your property back together quickly, so that you can get on with serving customers.
Recently, it is found that the theft rate has increased greatly. You could reduce the risk of your home being robbed by taking certain easy precautions. Most of the times, the opportunists carry out the robberies. Two thirds of the burglars break into houses through the doors. If you do not want them to break into your house then you could put security locks to you home doors.
If you are planning to replace the home door then take an opportunity and install the certified doors for enhanced security. You could get it fixed with a bar or a chain. Make sure that the frames and the doors are quite strong and are in great condition. If you are planning to install a wooden door then make sure it is solid enough. Fit in five lever deadlocks for all outside doors. This would also include the French door. By installing an additional palates and steel strip, you could make the wooden doors even more strong. Choose the best door in order to ensure your safety while at home or away from home. It is best to keep the doors locked, whether you are at home or out of the home. You could make use of the deadlocks or some other security enhanced doors for your home. You can fit up the mortise bolts at the bottom as well as top of the doors also to the French side doors. Prior to installing the locks to the doors, you could check the installer in order to make sure that it would not affect the warranty. The doors of the apartments are not as strong as compared to the houses, and the burglars too can easily break into the house, unless you take some extra measures to increase your door safety.
Do not keep the key at an easily reachable place. It is best to hide it is a safe place. If you are moving into a new home then it is best to change the locks soon after moving. This would cut down the risk of the burglars entering your home. Chances are that the other people too might be having the keys for your new house. As a result, it is best to change the window as well as door locks immediately after shifting in. Do not ever leave the keys anywhere. You could decide a particular place and then keep the keys in that particular place. This would allow you to find the keys in emergency as well as safe from the thieves. When the door bell rings, pull the chain and then open the door. It is best to maintain the security of the home on your own. Do not depend on some other person. Get strong and good locks for your new home. This would keep away the thieves from entering your house. You could also install security locks to the windows too. You also need to install a security lock for the back door of your house.
As a commercial property owner you should be aware of some ways to protect your store or business from burglaries, and here are few of them. Burglary can happen to anyone; home owners, renters, and store owners. While there is no way to 100% avoid the possibility of a theft, you can take proactive approaches to prevent it. For store owners, there are mentioned here, five of the best measures you can take to help protect your store from burglaries.
Opening and Closing – A lot of burglaries occur during the night, however another common time is during opening and closing. The burglars will not even need to break in if they come across you entering or leaving your premises. The best way to prevent burglaries when opening or closing up shop is to do this as a team. Having two or three employees open and close the store might deter any solo burglars. Remember, safety is in numbers.
Cash Register Location – While it might not seem like an important factor, the placement of the cash register can actually make a difference in your store being broken into or not. This is especially true if your store has an all-glass front that is view-able to the public. Placing your register near the front of the store, in the plain view of the public, also keeps any burglars exposed who are attempting to open the register. A burglar would be much more comfortable taking money from a cash register located out of sight.
Alarm System – Having some form of alarm system or security system protects you in two ways. Should a burglary occur, the alarms will raise and police will be notified. They can also protect your store if you place a notice in a visible area that shows your store is protected by a security system. This alone has potential to deter a would-be burglar.
Gates and Grilles – The types of gates and grilles you can get for your store are endless. The benefit of getting some form of security gate is that they are much more difficult to break into. A simple glass store front stands no chance against a burglar. However if your shop has a security gate across the front during off-hours, the burglar does not stand a chance against your shop.
Lighting – The lighting of your store can have some effect on whether burglars see it as a worthy target. During the day, your store will most likely have sufficient lighting for customers. However, at night you should floodlight areas around your store. This light leaves burglars very exposed and easy to spot. Any suspicious activity can be witnessed with well-placed flood lights.
By following these tips, you will at least help minimize the chance of a burglary. Unfortunately, even the most careful and proactive of stores can still be targeted. In the unfortunate event of a break-in, our door service can help with the aftermath. Our 24/7 emergency services are on standby for events such as these. Our professionals will help you board up any damaged entrances. These temporary board ups will provide your store with protection from the elements as we install your new doors.