Professional Fire Rated Door Services
Your Residential and Commercial Door Repair and Door Entrance Expert in the GTA, Ontario! Call

866-820-1331
Professional Fire Rated Door Services, The trained service technicians here at Doors Repair Toronto are ready to meet your needs by installing expertly crafted hollow metal and steel fire doors. We install internal and external fire doors, whether you need a whole fire door system installed or just a small repair, we are your guy. We're available 24 hours a day, seven days a week to fix or replace internal and external wooden and metal fire doors for commercial, residential and industrial clients throughout your neighborhood. Our company is able to repair hollow metal, steel entry and fire doors. We're also able to fix and install ADA Compliant handicap doors, plus keyless or wireless access gates and doors. Our company is licensed, insured, and led by over 20 years door repair experience with hollow metal and wooden fire doors. So when you hire us, you can get peace of mind that the work will be done correctly, and with respect for your property.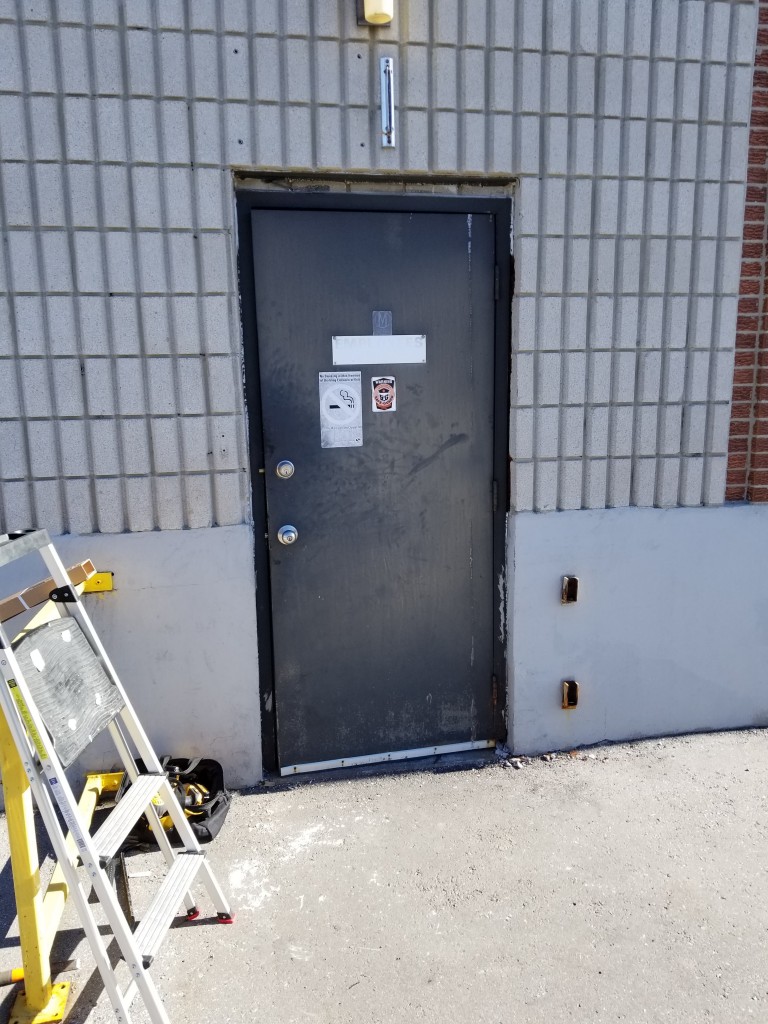 We can fix doors at schools, hospitals and all large commercial and residential buildings. We can also install fire rated doors for specific industries with different needs and regulations to comply with. We are experts when it comes to fire doors and have been installing them at a business near you for over thirty years. Our clients in Toronto, Mississauga, Scarborough, Richmond Hill, Brampton, Hamilton and Kitchener/Waterloo area have been putting their trust in us for complete commercial door services and have never been disappointed, so why take risks with inexperienced companies, call the experts today! Hollow metal doors are perfect for school entrances, warehouses, buildings for manufacturers, emergency exits, courtrooms, office buildings, apartments, military installations, airports, and hotels. Doors Repair Toronto are the hollow metal fire door experts, why take a chance with an inexperienced company, we have been providing fire door service to your city for more than thirty years!
We're able to repair, replace and install: internal, external, wooden, metal, and any other fire doors. But unlike some repair companies, our fleet of service trucks are stocked with common replacement parts for fire doors. This means that most repairs can be finished on our very first visit, sometimes in less than an hour. So we'll be able to get the job finished quickly, and get you back on schedule as soon as possible. And with the work done correctly, we'll give you peace of mind for your property and visitors.
24 Hour Fire Door Repair/Replacement Services in the GTA area
Fire Doors are specifically engineered products built to maintain firewall rating integrity and to provide safety and fire protection in industrial and commercial facilities. They are automatically triggered to close to reduce the advancement of fire between established zones within a building.
We service, sell and conduct Fire Door Drop Tests that meet NFPA 80 annual requirements.
• We sell, service and install top quality Fire Doors
• Fire Door drop testing service
• Meet NFPA 80 requirements
Fire Door Repair
Selecting, installing and servicing the right Fire Door for you specific need, while keeping in mind the annual testing requirements, doesn't have to be an intimidating decision.