Garage Door Spring Repair
Ontario Garage Door Repair 647-866-0956
Ontario Garage Spring Repair, Torsion springs are located above the opening of your door with springs slid onto a bar. Extension spring systems can be found alongside the opening of the door. It's important to know whether or not a garage door company provides service for your needs. Ontario Garage Spring Repair 's professionally trained technicians are fully equipped to work on torsion and extension spring systems.
Call today to have a professionally trained technician repair you garage door today! 647-866-0956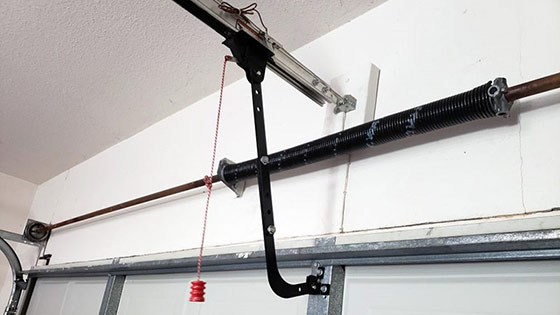 Ontario Garage Spring Repair Spring Repair Best Practices
Every homeowner can relate to how life's inconveniences are thrown at you at the worst possible times. The last thing you want to happen is have your car stuck in the garage when you need it most, especially when it's only been a couple months, weeks, or even days after your last garage door repair! That's why Ontario Garage Spring Repair leads by example and follows the industry's best practices in order to make the best recommendation to homeowners each time we step foot in a garage.
Best Practice #1 – Replacing Both Springs
Most garage doors have two springs installed at the same time, when one breaks it's safe to say the second spring's life expectancy has just about expired. In order to save you from future inconvenience, unsafe garage door practices, and damaging your garage door opener, Ontario Garage Spring Repair will usually recommend to replace both springs. If you've had the same tires on your car for a while and one blows out while you're driving, wouldn't you replace them both? It's extremely important to properly maintain equipment such as garage doors and automobiles.
Best Practice #2 – Using The Right Springs
Since garage doors come in all weights and sizes, the right springs need to be installed in order to properly balance the door. If a technician puts the wrong spring on your door, not only will this damage your garage door system, but it will cause the garage door opener to do more work than it was built to do. This is why Ontario Garage Spring Repair technicians only install the right springs for the door's weight and check their work by performing a balance test.
Best Practice #3 – Safety Inspection
With every spring repair, Ontario Garage Spring Repair provides a free safety inspection to make sure all the hardware and moving parts on your door are in good working condition and meet safety standards. Since the hardware was probably installed at the same as the springs, it's possible there are worn mechanical parts on your door that are in an unsafe state. Think about spring failure as a symptom to a possibly larger problem with your door. This is why it's a Ontario Garage Spring Repair Best Practice to provide a free safety inspection and maintain a safe environment for our customers.
Call Ontario Garage Spring Repair today for garage door spring repair! 647-866-0956
Why Ontario Garage Spring Repair's Spring Repair Transcends The Competition
Longer Lasting Corrosion Free Springs
Ontario Garage Spring Repair gives you the option to use our weather resistant powder coated spring. This coating prevents corrosion and friction and allows these springs to last much longer than your standard garage door spring. Just like car tires are rated by miles, garage door springs are rated by an estimated number of cycles (1 cycle = your garage door going up AND down 1 time). The springs used by our competition range anywhere from 5,000-10,000 cycles, whereas our powder coated springs are rated for 25,000-50,000 cycles!
Call Ontario Garage Spring Repair now for Garage Door Spring Repair! 647-866-0956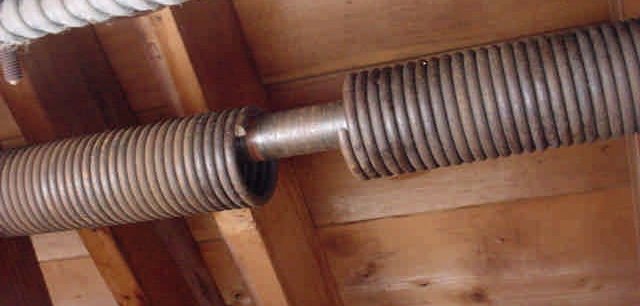 How Much Does Spring Repair Cost?
The most common question we get over the phone is, "Okay, so how much does it cost to replace garage door springs?" To give you an exact price quote, we would need to know the size of the door, weight, and type of garage door springs needed (torsion or extension). Since we carry over 30 different types of springs to account for all the different types of garage doors, we recommend that a professionally trained technician takes the proper measurements himself before giving you an exact price quote.
Call Ontario Garage Spring Repair today to have a professionally trained technician give you an estimate on garage door spring repair! 647-866-0956
3 Steps To Finding The Perfect Garage Door For You!
Pick The Garage Door That Fits Your Needs Best
Ensure you Understand the Warranty
Choose The Right Company
Directly below you will find an outline of these 3 steps to help you learn the pros and cons of each material & style; and in a very short time, you will have figured out the perfect door for you. It will only take a few minutes but don't rush! You will have the door you choose for a long time and this page will help you find the one that's best for you.
#1: Which Is The Best Garage Door?
We are often asked this question and the simple answer is the best garage door is the one that most closely meets your needs. You should choose a garage door manufactured by a quality company with a good reputation and installed by a professional.
We proudly feature Amarr® and CHI® residential garage doors. We sell and professionally install these Garage Doors because they offer quality, durability, and warranties that are superior in the industry.
Steel Garage Doors are the most popular door. Steel is the most widely used material for garage doors today because of its durability.
Steel will look great forever and is just about maintenance-free.
Additionally, they have the advantage of being the least expensive garage door you can buy.
If you're looking to add even more appeal to your home, a Steel Door in Carriage Style like the one below might be just what you're looking for…
These doors increase the curb appeal of your home so much that real estate studies have shown they increase the value of your house.
But that's not the real reason to have them… the most important reason is just how much you'll love the way the exterior of your home looks… and if the neighbors are a little jealous, well, that just can't be helped!
Custom Garage Doors Wood has a natural beauty, is very versatile, and operates quietly. It may be painted or stained and is available in a wide price range.If you choose a wood door, you should plan to spend some time maintaining it.
– Wood garage doors can be fully customized to your needs. Custom garage doors are available in any size and type of wood; including cedar, hemlock & mahogany.