Storefront Door Repair
Commercial Storefront Glass and Door Replacement

416-840-9641



Storefront Door Repair, Whether your storefront is new construction, replacement or tenant improvements, Door Repair Toronto understands the intricacies of commercial glass. We also offer glazing and other solutions for your specific needs.
Storefront Door Repair
We know how important it is when it comes to storefront repair and understand that time is of the essence. We work with you to assure minimal downtown while providing high-quality installation and service at a fair price.
Replacing or updating cracked, foggy, damaged or older commercial windows with Low-e Glass not only improves the energy efficiency of your building, but improves the aesthetic appeal and lessons UV damage helping protect fabrics, leather, carpeting and artwork from the fading effects of the sun.
New Storefront Glass Windows and Door Installations
We design, fabricate and install all types of storefront including hotels, restaurants, strip malls, medical offices, municipalities, interior malls, places of worship, and corporate offices. From single entry doors to entire office buildings and hospitality glass and mirrors, our team is dedicated to providing superior service that stays within budget and on time.
Storefront Glass Windows and Doors Repair
We provide a specialist commercial Storefront door service by replacing and repairing factory doors across many industries.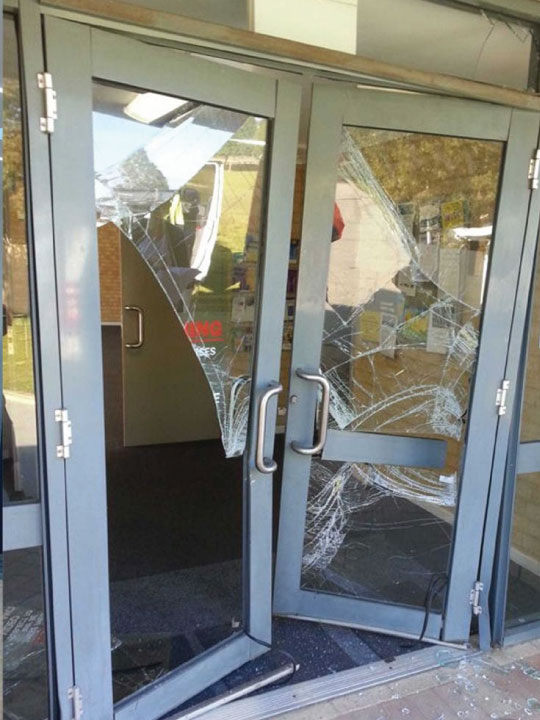 Our qualifications & certifications allow us to work in & across all industries including hotels, shops, factories, schools, hospitals, child care centers, aged care facilities, warehouses, banks, police stations, studios, government departments & building sites.
We also install hardware to doors including new hinges, handles, locks, door closers, door seals, pivots, tracks, rollers, viewing panels, air grills, signs, door stops, door frames & panic bars. If it's part of your door & it's broken, we can fix it at a fraction of the cost to replace it.
However, if it cannot be repaired, we can replace many types of doors:
Fire doors

Smoke doors

Entrance doors

Emergency Exit doors

Aluminum/Glass doors

Timber doors

Metal clad doors

Color bond doors

Security doors
For more information about our door repair services & products, contact us today! 
Emergency Boarding Services Toronto
Are you looking for emergency board up services near me? Look no further than Toronto Commercial Door Glass Repair.
Our glazing experts have many years' experience in providing 24 hour emergency boarding services in the GTA Toronto, Ontario to protect and secure your property. Whatever time you require us, we will be there within a 30-60 min to fit our special boarding panels onto your property.
Emergency Boarding, Window Board Up Service in the GTA, Ontario
We provide 24/7 emergency window boarding service for both our domestic and commercial customers. If you have had a break into your property in the early hours of the morning, give us a call and we will be there ready to board up your property.
With many years' of experience in providing window board up services, we have gained the knowledge and expertise to deliver high-quality fittings for our customers. We will provide you with a free quote that is within your budget.
Board Up Broken Window
Would like to use a local glazing service? Let us help. You can trust that we will deliver high-quality results to you. Our team is fully qualified to work with any situation that we come across. We will provide you with a hassle-free, affordable service, call us on 416-840-9641 and our glazing specialists will attend your property when you need us.
If you are looking for an emergency boarding up service near me for your windows or doors in Ajax | Aurora | Barrie | Cambridge | Toronto Beaches | Concord | Danforth | Don Mills | East York | Etobicoke | Guelph | GTA | King City | Kitchener | Leaside | Maple | Markham | Mississauga | Newmarket | North Toronto | North York | Oakville | Old Toronto | Pickering | Richmond Hill | Scarborough | Stoufville | Streetsville | Thornhill | Toronto | Unionville | Vaughan | Waterloo | Willowdale | Whitby | Woodbridge | Burlington | Hamilton | Waterdown, look no further than Storefront Doors Glass Repair Toronto. We can secure and protect your domestic or commercial property within a few hours of you calling. Give us a call on 416-840-9641 and we will be happy to help.
Whether you require our shop front boarding up service or need to board up home windows, we will be there. Don't hesitate to give us a call on 416-840-9641



Storefront Doors Glass Repair Toronto specialist in the replacement of Storefront. Whether it be replacing a broken Storefront, or upgrading your Storefront, Toronto Storefront Door Repair has the expertise and experience you require.
Our team of 8 Glazing vehicles and 12 Glaziers, combined with their large factory capacity and industry leading machinery, ensures we are fully resourced and have your type of Storefront glass in stock. This results in an extremely fast turnaround for your Storefront replacement or upgrade, resulting in minimal disruption to you and your business.
Storefront Door Repair Toronto, we have the qualification to work in shopping centers and all commercial locations.
By using Storefront Door Repair Toronto to replace or upgrade your Storefront, you are assured of a fast turnaround and the highest regard to safety for you and your customers.
There are various finishes now available that may be beneficial to your business, such as burglar resistant glass, energy efficient glass & anti-graffiti film. Storefront Door Repair Toronto provides a FREE measure & quote service to discuss any of these options with you.
Storefront Door Repair Toronto is a leading provider of Insurance Services to re glaze damaged shopfronts. CLICK HERE to find out about our insurance service.
Commercial Storefront Doors Repair
Window and Glass replacement can be required in many situations including replacement of broken or scratched glass, changing the style of glass or even to upgrade to safety glass or energy efficient glass. Toronto Storefront Doors Repair offers a fast and reliable window & glass replacement service throughout GTA for your business.
Many window replacements are required as soon as possible because they present a danger or security risk therefore our emergency glass service is required to resolve these situations.
Other than replacing broken glass, there are many reasons why you would consider replacing or upgrading your window or door glass, such as safety concerns, security or to improve your energy efficiency.
Many commercial properties have old glass that doesn't comply with the current Canadian standards. Replacing low level glass panels and glass doors with safety glass will bring your business in line with the building requirements and protect your employees and customers, and minimize potential litigation.
Burglar Resistant Glass acts like safety glass, but has a tougher inner layer that prevents access to your business by intruders who attempt to gain access to your property by using bricks, sledge hammers or axes to break the glass.
Toronto Storefront Doors Repair specialize in scratch resistant glass. If the windows at your business are prone to vandalism, talk to Toronto Storefront Doors about the scratch resistant option that we have available.
Energy Efficient Glass is the latest in glass technology and the replacement of your windows or Storefront with this amazing innovation will become an investment that will enhance your bottom line, saving you money! CLICK HERE to find out more about how energy efficient glass can work for you!
Storefront Door Toronto offers a FREE measure & Quote service. BOOK an appointment today and explore how the right window selection can improve the value, safety & security of your business.

416-840-9641